Alternative Investment Industry Leaders AIX and AI Insight Announce Game-Changing Partnership
March 5, 2020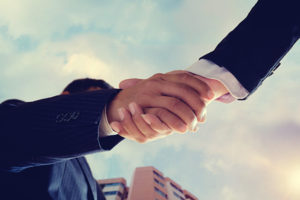 PHILADELPHIA – March 5, 2020 – Alternative Investment Exchange (AIX), a financial technology solutions provider that streamlines the process of transacting in non-traded alternatives, today announced a partnership with AI Insight, the leader in alternative investment research, training and compliance support. This collaboration between two industry leaders will help financial advisors, broker dealers and fund sponsors by creating a more seamless and efficient interface experience and by linking advisors training with the authorization to purchase alternative investments. 
 
"AIX's partnership with AI Insight is a natural extension of our mission to seamlessly connect previously unconnected data in the alternative investment industry to enable efficient, straight-through processing," said Joseph P. Ujobai, CEO of AIX. "Together, we will eliminate the ambiguity and risk for advisors and broker dealers by combining training requirements, data and transaction authority in a user-friendly environment." 
 
Because alternative investments are bought and sold less frequently than traditional, liquid financial instruments, advisors are often unaware of the additional checks and approvals that must be satisfied prior to completing purchase documents. This lack of awareness often leads to frustration and delays: if advisors submit purchase paperwork prior to completing the required training or meeting other key regulatory benchmarks, the transaction will require supervisory follow-up. Historically, the process has been manual, time-consuming and prone to human error. The partnership between AIX and AI Insight removed human error and makes the process streamlined, instantaneous and automatic.
 
"Partnering with AIX aligns perfectly with our goal of creating a more regulatorily compliant and efficient experience for broker dealers," commented Sherri Cooke, CEO and Founder of AI Insight. "We have worked with AIX through their thoughtful development process to create a seamless processing tool, and we look forward to helping our clients reduce risk and save resources."
 
With the AIX and AI Insight platforms integrated, advisors who use AIX will have their training status verified in real time. If they have not completed required training, they will be directed to AI Insight to satisfy the outstanding requirements. Once the required training is complete, the advisor will have authority to proceed with the investment and all necessary data is further transmitted electronically. By seamlessly integrating the training verification at the point of sale, the need for manual reconciliation and compliance or supervisory intervention is removed.
The benefits to all stakeholders include fewer processing errors, increased regulatory compliance, better transparency, less paperwork, greater efficiencies and consistencies for supervisory departments, shorter lag time to purchase products, and the potential for significant E & O insurance savings and enhanced coverage due to automated best practices. For broker dealers specifically, the real-time integration helps enforce compliance policies and saves time by eliminating the need to manually cross reference multiple information sources. For advisors, the behind-the-scenes connectivity eliminates guesswork as to what training is required and when, creating greater transparency and shorter cycle times. Asset managers and fund sponsors will expand their reach to advisors and investors who have been historically reluctant to allocate to alternatives.
 
Mr. Ujobai added, "From advisors to IBDs to investors, this partnership will create a better experience across the board for everyone involved in alternatives."
 
More information about the AIX and AI Insight partnership is available at aixplatform.com/aiinsight.
 
About AIX:
Alternative Investment Exchange (AIX) is a leading enterprise platform that simplifies investing in alternatives – transforming the business model and empowering growth by connecting data. An independently operated company incubated at FS Investments, AIX's technology helps wealth and asset managers use business intelligence to manage risk, drive efficiency and improve advisor and investor experiences. Thousands of wealth advisors rely on AIX to support their business. AIX employs over 30 people and is based in the Philadelphia Navy Yard. For more information, please visit aixplatform.com or Linkedin: linkedin.com/company/aix-alternative-investment-exchange.
 
About AI Insight:
AI Insight is a leader in alternative investment research, training and compliance support, working with 140 alternative investment managers, 160 broker dealer and RIA firms representing about 50,000 advisors. Financial firms and advisors can research the individual investment offerings from AI Insight's universe of hundreds of programs to train, track compliance activity, access marketing support and monitor ongoing performance—all via a customizable, dedicated platform that increases visibility, accessibility, and transparency. For more information, please visit aiinsight.com.
 
Contact Information
Julie Rudnick or Paige Barrett
Sard Verbinnen & Co
212-687-8080
JRudnick@SARDVERB.com or PBarrett@SARDVERB.com
Go Back
Blue Vault Broker Dealer Educational Summit
Blue Vault has been an important partner to Geneos in providing us and our advisors pertinent information about non-traded products and the industry as a whole. The annual BD Summit is a valuable due diligence experience for any broker dealer."