Blue Vault Partners with Riskalyze to Provide Preeminent Research Tools for Wealth Advisors
October 31, 2019 | James Sprow | Blue Vault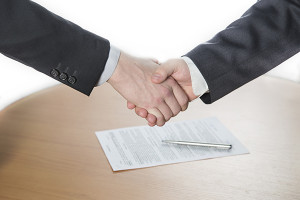 Blue Vault and Riskalyze are teaming up to integrate the research that Blue Vault has been providing for ten years on alternative investment performance, including nontraded REITs, nontraded BDCs, Interval Funds and nontraded Closed End funds, into the powerful tools that Riskalyze has developed to help wealth advisors evaluate risk and make better recommendations for their clients.
"We're proud to partner with Blue Vault to provide our customers with the most sophisticated analysis of non-traded REITs in the industry," said Mike McDaniel, Co-Founder and Chief Investment Officer at Riskalyze. "Our Risk and Methodology team has designed a robust analysis algorithm for non-traded investments that uses a 10-factor methodology for analyzing non-traded REITs, and another 10-factor framework for analyzing non-traded BDCs."
"We built Blue Vault to promote transparency and provide fact-based performance metrics for the alts market, and we're excited to extend the reach of our research by partnering with Riskalyze," said Stacy Chitty, co-founder and managing partner of Blue Vault. "Knowledge is power, and in this case, it's the power to be well-informed before diversifying with alternative investments."
Introduction to Riskalyze
Riskalyze provides tools to financial advisors and their clients to analyze the risk they are facing with their current portfolios, using metrics that are easy to understand. By using leading scientific theory to objectively pinpoint an investor's "Risk Number" the advisor can illustrate an investment strategy that allows clients to reach their goals.
Riskalyze tools calculate the probability range for portfolio returns and help clients understand how their investment strategies can better fit their individual risk tolerance while meeting their long-term financial needs. When clients better understand how their portfolios can be structured to fit both their risk tolerance and their long-term investment goals, they can better deal with market volatility, knowing that their advisor has illustrated for them how short-term ups and downs fit within the range of risk that they can handle. Riskalyze helps advisors to act in the best interest of their clients, and prove it, showing alignment between portfolio construction, risk tolerance, and risk capacity.
Riskalyze can provide alerts to advisors when accounts need attention. Whether it's Risk Number drift, changes in an investment model, or putting new dollars to work, Riskalyze's Autopilot Trading tool empowers the advisor to fulfill orders directly at the custodian level and leverage a powerful trade network to keep everything efficient and fair.  With Connected Trading, the advisor is in control, and gets visibility into order statuses at both the account and block levels.
Riskalyze was founded in 2011 by Aaron Klein, Mike McDaniel and Matt Pistone. In 2013, Fast Company Magazine named Riskalyze to their list of the World's Most Innovative Companies, in the Top Ten in Finance. The company was named to the list again for 2014.
In 2013 they introduced the Risk Reward Heatmap, the Investment Policy Statement and the Lead Generation Questionnaire, as well as Retirement Maps and Stress Tests.
Riskalyze held its three-day Fearless Investing Summit in Boston in October 2019, where over 550 investment professionals from all over the country learned about the latest developments in financial advice and technology. Riskalyze also brought their technology to university classrooms to help educate future financial advisors. In 2016 they launched Check-ins, the advisor's early warning system for client psychology, and Outside Asset Sync to replace manually entered statements. In 2017 they came out with Autopilot for automated trading. In 2018 they announced Scenarios, Riskalyze GPA and their mobile app. In 2019 they introduced Timeline to unlock the power of life events in retirement maps.
Through all these product developments, Riskalyze has focused on driving satisfaction, retention and referrals from clients, bringing the benefits of financial advisor advice to clients. Their products help advisors to prove and document the "best interest" standard.
Blue Vault Introduction
Since 2009, Blue Vault has been providing advisors and investors with objective, straight-forward research on alternative investments. Beginning with quarterly reports on every nontraded REIT program, Blue Vault's research has expanded to covering nontraded BDCs, Interval Funds, and nontraded Closed-End funds. Nontraded REIT reports include all the data that advisors and investors need to trace the performance of individual programs, including capital raised, distribution rates, share pricing during the offerings and the history of net asset values per share, distribution rates and payout ratios, redemption rates, debt profiles and details on the fund's portfolios and recent events. Reports on REITs with effective and/or continuous offerings show share pricing, upfront fees and ongoing shareholder servicing fees for each share class. Blue Vault also provides Performance Profiles, reporting trends in the REIT's return on assets, effectiveness in use of leverage, financing needs, and distribution coverage.
Blue Vault's Interval Fund reports give a wealth of data on pricing, NAVs per share, distribution yields, capital raise, risk measures including standard deviations of returns and Sharpe Ratios, and other key statistics that investors need to evaluate performance. Nontraded BDC reports detail pricing and the history of per share NAVs, distributions, sources of distributions, portfolio performance and comparisons to listed fund benchmarks. Each BDC page also includes key statistics for evaluating expenses, leverage and payout ratios. 
The Blue Vault website provides a large selection of educational materials, including access to individual program reports, industry data, sponsor profiles, news and industry intel. Special studies produced by Blue Vault have provided a complete history of the full-cycle performance of all nontraded REITs since the industry began, calculating investor returns and comparing those returns to custom benchmarks based upon asset types, holding periods, regional diversification, and leverage.
Blue Vault also provides nontraded REIT performance data to business to business provider and clearing firm, Pershing, a subsidiary of Bank Of New York Mellon, for use with Pershing's digital technology NetX360 platform.
Riskalyze Partner Store
Blue Vault has now joined the Riskalyze Partner Store at www.riskalyze.com/partner-store, where the industry's best researchers and asset managers are featured. The store gives tens of thousands of advisors access to the industry's best strategies and research and it was named "Best Model Marketplace" at WealthManagement.com's annual industry awards event. As an example, whenever Franklin Templeton updates their models, Riskalyze members get real-time alerts.
Riskalyze and Blue Vault Presentations
Riskalyze and Blue Vault will be presenting a joint webinar on December 4 to showcase Blue Vault's alternative investment coverage and analysis. Riskalyze will also be headlining the annual Blue Vault Bowman Alts Summit March 2020 in Atlanta, along with many other firms in the FinTech arena.  Wealth Advisors may register for the co-webinar here…https://hs.riskalyze.com/bluevault-webinar
Go Back
Blue Vault Broker Dealer Educational Summit
Blue Vault has been an important partner to Geneos in providing us and our advisors pertinent information about non-traded products and the industry as a whole. The annual BD Summit is a valuable due diligence experience for any broker dealer."