Getting Started with the Due Diligence Process
September 16, 2016 | by Beth Glavosek, in collaboration with Alan Royalty and Scott Brown | Blue Vault and Blue Vault Due Diligence Services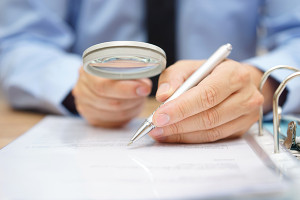 In a previous blog post, we highlighted the importance of using due diligence to make informed decisions. For Independent Broker Dealers in particular, due diligence is a critical function in the investment selection process.
So, let's say that there's a new alternative investment product offering from a product sponsor. How do Broker Dealers get started with the due diligence process of evaluating the offering, and what are the first steps?
Broker Dealers initiate the process. When Broker Dealers are interested in considering a particular alternative investment product offering, they require the product sponsor to utilize a third-party due diligence firm like Blue Vault Due Diligence Services as a tool to assist them in evaluating the sponsored investment product. In some cases, the Broker Dealers engage the third-party due diligence firm directly, while in other cases, a product sponsor engages the firm to perform due diligence for the benefit of Broker Dealers.
The process usually kicks off with an introductory conference call. During this call, a Broker Dealer and/or a third-party due diligence firm may review a list of documents or information requested from the sponsor's due diligence team. This call usually takes place a few weeks before the Broker Dealer and/or third-party due diligence firm is planning to make an on-site visit to the sponsor. At this time, a third-party firm can provide valuable assistance in determining what information to ask for and collecting the data requested.
The on-site visit will then be scheduled. It's critical to make sure that the sponsor's executives and key personnel will be available and accessible during this visit.
After the on-site visit is complete, it's time for the third-party firm to prepare a due diligence report for the Broker Dealers. Blue Vault Due Diligence Services performs this function for its Broker Dealer clients. There will, undoubtedly, be follow-up questions and additional information requests for the sponsor as the report is drafted, and the third-party due diligence firm streamlines this process.
The last step is issuing the completed due diligence report. Blue Vault Due Diligence Services typically schedules a conference call with the sponsor's due diligence team once the report is ready to be finalized. The call reviews the report's executive summary, strengths and weaknesses, and particular points with the sponsor's due diligence team in order to ensure factual accuracy.
Once this call has been completed, any necessary resulting changes or edits are made to the due diligence report, and it is ready for issuance to Broker Dealer clients.
In future posts, we'll discuss other aspects of the due diligence process and best practices that are mutually beneficial to the Broker Dealer, product sponsor, and third-party due diligence relationship.
---
Other blog posts in this series:
Due Diligence Basics, posted on September 9, 2016
Go Back
Broker Dealer Educational Summit 2016
The Blue Vault Summit could not have been more perfectly timed. This gathering of the Broker Dealer and Sponsor communities provided insightful and open discussion from several vantage points. These conversations are paramount, especially in a time of significant regulatory change.