July 2022 Reported Nontraded REIT Sales Down 11.7% from June
July 2022 Reported Nontraded REIT Sales Down 11.7% from June
August 23, 2022 | James Sprow | Blue Vault
Blue Vault received July 2022 sales totals for eleven nontraded REIT program offerings as of August 16, 2022. Sales reported by those eleven NTRs totaled $557.2 million, down 11.7% from $630.7 million in June, and up 43% Y-O-Y from the $390.5 million in sales in July 2021. Among reporting nontraded REITs, Ares Industrial REIT led the group with $135.0 million in sales, up 3.6% from the sales by the REIT in June. Jones Lang LaSalle Income Property Trust had sales of $101.2 million, up 24.9% from $81.0 million in June. FS Credit REIT reported July sales of $92.9 million, down 30.2% from $133.2 million in June. Hines Global Income Trust reported $76.9 million in sales, down 33.1% from $115.0 million in June. Nuveen Global Cities REIT had sales of $65.6 million, down 21.6% from June's sales of $83.7 million.

All capital raise figures for these nontraded REITs include DRIP proceeds.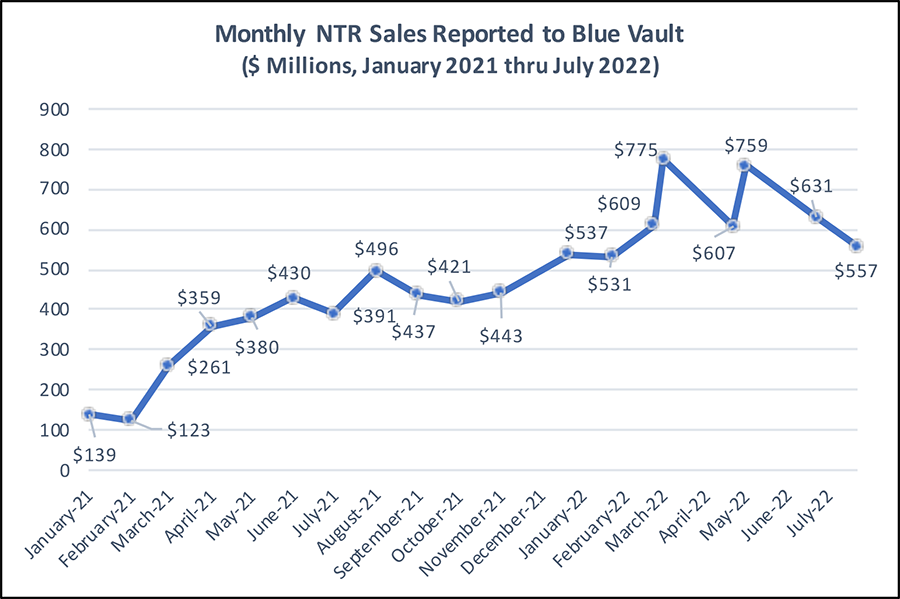 Sales in the chart do not include capital raised by Blackstone REIT, Starwood REIT, Brookfield REIT and Invesco REIT. Those four REITs raised an estimated $8.74 billion in Q2 2022 and raised capital with equity sales in July 2022 but did not report to Blue Vault. Blackstone REIT raised $6.67 billion (including DRIP) in Q2 2022, followed by Starwood REIT with $1.83 billion, Brookfield REIT with $227 million and Invesco REIT with $13.45 million.
Y-O-Y NTR Capital Raise Comparisons
Year-over-year comparisons show capital raised by reporting nontraded REITs was up 43%.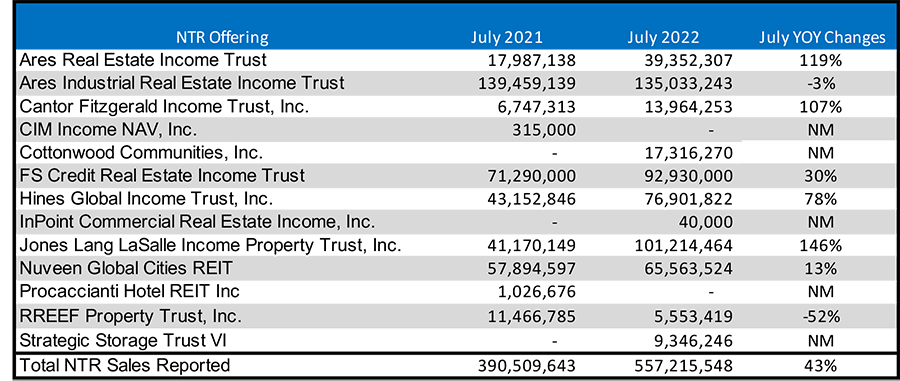 Nontraded BDC Capital Raise thru July 2022
Only two nontraded BDCs were raising funds and reported to Blue Vault in July 2022. Blue Owl Capital Inc. (formerly Owl Rock Capital Advisors) had $373.65 million in equity capital raised by two BDCs in July 2022, down 10.8% from the June total of $418.8 million. Blackstone's nontraded BDC was also raising capital but did not report its sales to Blue Vault. Quarterly capital raise for the three reporting nontraded BDCs since Q1 2021 are shown below along with July 2022.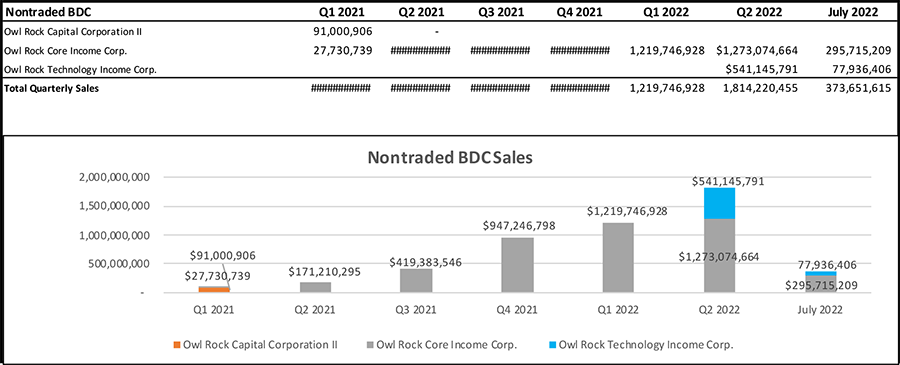 Interval Fund Sales Reported to Blue Vault for July
Twelve Interval Funds reported their capital raise for July 2022 to Blue Vault. Bluerock Total Income+ Real Estate Fund raised $276.7 million, down 34% from the $418.2 total for June. Apollo Diversified Real Estate Fund raised $100.4 million, down 41% from the June total of $170.0 million. The twelve funds that reported had total capital raise of $596.9 million, down 21% from the $760.2 million raised in June 2022.

Listed REITs and BDCs with Nontraded Preferred Stock Issuances
Blue Vault has received sales reports from four listed REITs and a listed BDC that issued nontraded preferred stock in July. Leading the group was listed BDC Prospect Capital with $165.9 million in preferred stock issuances, up over 339% from the $37.8 million June total. Braemar Hotels & Resorts issued $55.7 million, up 280% from $14.7 million in June. Gladstone Land issued $27.9 million in nontraded preferred stock, up 108% from the June total. For all five listed funds that issued nontraded preferred and reported to Blue Vault, the total was $282.4 million, up 297% from the June total of $71.1 million reported by the same five listed funds.

Sources:  SEC, Blue Vault