Monthly Total Returns to Continuously Offered NTRs Cool Off in July
Monthly Total Returns to Continuously Offered NTRs Cool Off in July
August 25, 2022 | James Sprow | Blue Vault
After 23 consecutive months of median total returns exceeding 0.50% for the 13 continuously offered nontraded REIT programs with monthly NAVs, June and July's median total returns to shareholders in those REITs in 2022 have fallen to 0.45% and 0.44%, respectively.
Chart I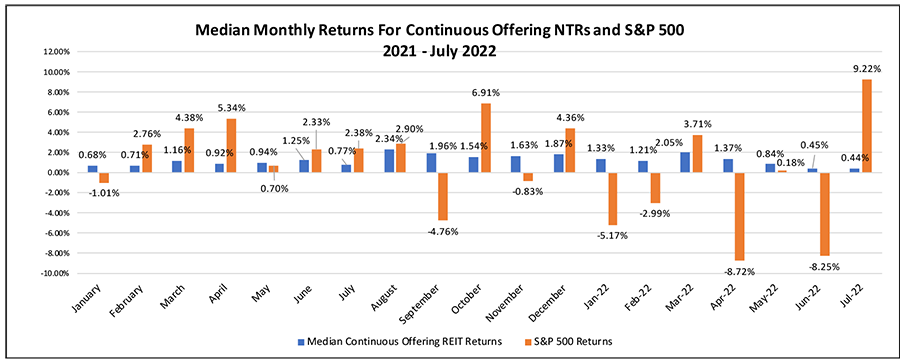 Leading all of the REITs in July with a total return to Class I shares was Brookfield REIT at 1.15%, followed closely by Nuveen Global Cities REIT at 1.14%. Ares Industrial REIT had a total return YTD thru July of 23.34%, followed by Cottonwood Communities at 22.28%, Brookfield REIT at 14.80%, and Jones Lang LaSalle Income Property Trust at 11.43%. Only one of the 14 NAV REITs reporting total returns in July 2022 had a negative return. These returns compare very favorably to the estimated total return to the S&P 500 Index thru July of negative 12.57%.
Chart II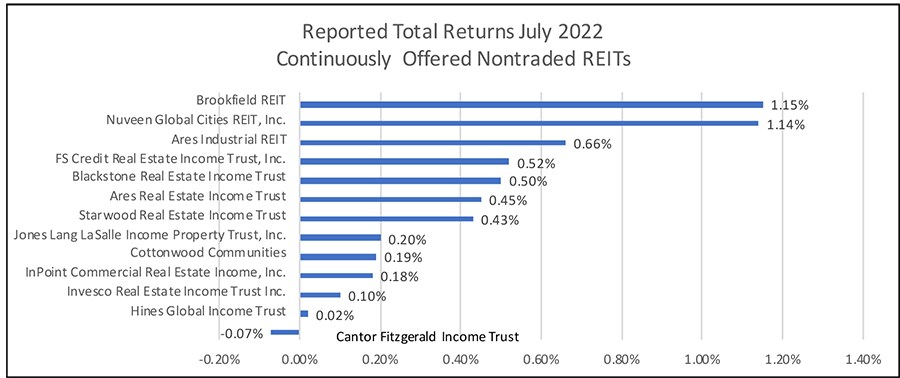 Comparisons with the total returns on the S&P 500 Stock Index show the consistent patterns of positive median total returns for the monthly NAV nontraded REIT offerings compared to the notable volatility in the S&P 500 total returns, with negative returns in seven of the past 19 months. Even when the S&P 500 total returns were negative 8.72% and negative 8.25% in April 2022 and June 2022, the nontraded REITs had positive median total returns of 1.37% and 0.45%, respectively. 
Chart III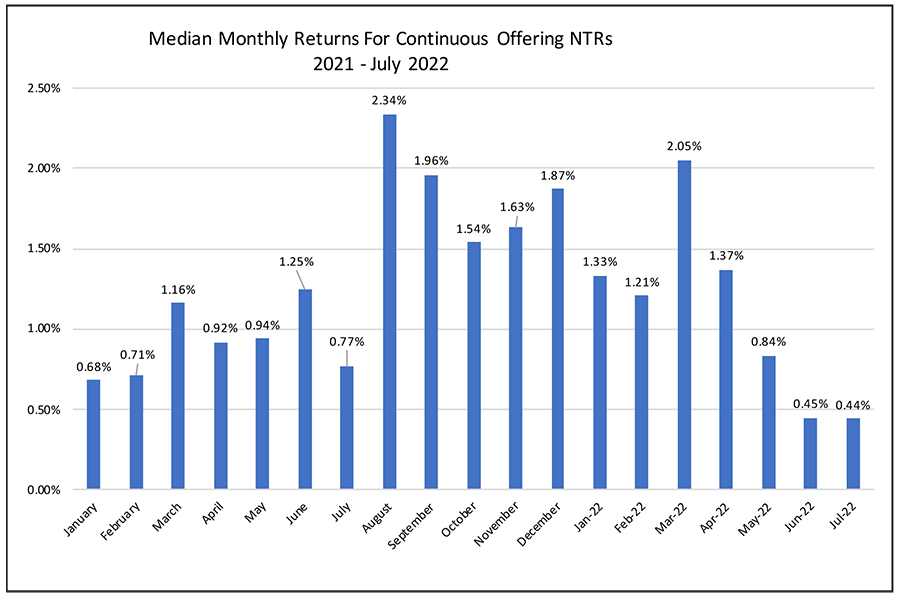 Sources:  SEC, Individual REIT Webpages, S&P 500