Demographics and the Outlook for Housing Demand
Demographics and the Outlook for Housing Demand
March 23, 2022 | James Sprow | Blue Vault
There are few statistics that are more helpful in forecasting the future than the demographics of populations. For example, it is safe to say that the number of 75-year old U.S. citizens five years from now can be forecasted with high accuracy from the number of 70-year old U.S. citizens alive today. Compared to forecasting interest rates or stock market returns, many demographic trends can be estimated with 99% accuracy. Another economic metric we can forecast accurately two to three years out is housing supply. The number of housing units available in the U.S. in two or three years can be known today with high accuracy because most exist today and the near-term additions to the housing stock are either currently under construction or already permitted.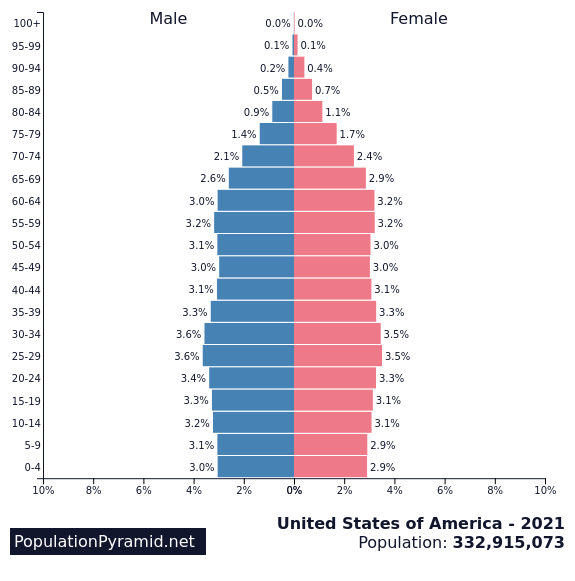 However, forecasting housing demand is more dependent upon economic conditions, interest rates, pricing trends and household formations. The first three variables are very much subject to different economic outlooks. If an economist is forecasting higher interest rates, higher housing prices and a recession, the housing demand forecasts will be different than if the outlook is more rosy. The mix between multifamily demand and single family housing demand will also be affected by economic forecasts and the trends affecting urban vs. suburban housing choices. Black Swan events such as the pandemic can greatly impact the urban vs. suburban demand patterns as we have recently seen. Add to these variables the regional differences in economic growth and internal U.S migration between regions and U.S. housing demand at a macro level can vary significantly from a regional or more narrowly-defined micro level.
What Are the Experts Saying About Housing Demand?
A March survey by U.S. News reported that 48.3% of respondents who expect to buy within the next year are first-time home buyers. These are predominantly the people in the population pyramid within the age ranges of 25 to 39. As that pyramid illustrates, that cohort of the U.S. population is a "bulge"due to the "Baby Boom Echo." As that cohort moves out from multifamily units into the market for single family homes, demand for those homes should be relatively strong. Will the smaller 20-24 cohort replace them in occupying multifamily units, or will higher single family prices and higher interest rates keep the older cohorts competing with their younger siblings in renting?
Experts vary in their outlook for existing home sales and pricing. Ian Shepherdson at Pantheon Macroeconomics is forecasting a dramatic fall in the pace of home sales this year. He says, "The housing market is in the early stages of a substantial downshift in activity, which will trigger a steep decline in the rate of increase of home prices, starting as soon as the spring." Affordability is the greatest concern of potential home buyers. According to Shepherdson, the rise in mortgage rates since September has increased the cost of a monthly mortgage payment for median-priced homes by more the $400, or 27%. Over the past 12 months, U.S. home prices are up 18.8%—an uptick larger than any 12-month period leading up to the 2008 housing crash, according to Zillow. They see only a subtle slowdown in the rate of growth. Their forecast model predicts a 17.8% year-over-year home price growth by February 2023. Zillow says, "The robust long-term outlook is driven by our expectations for tight market conditions to persist, with demand for housing exceeding the supply of available homes."
How does the market for single family homes and trends in that market impact the demand for multifamily units? Both of the above forecasts predict affordability problems for potential home buyers. With that in mind, multifamily occupancy and rent forecasts will be positive, as demand exceeds supply. Fannie Mae is forecasting continuing rent escalation and lower vacancies into 2023 and 2024.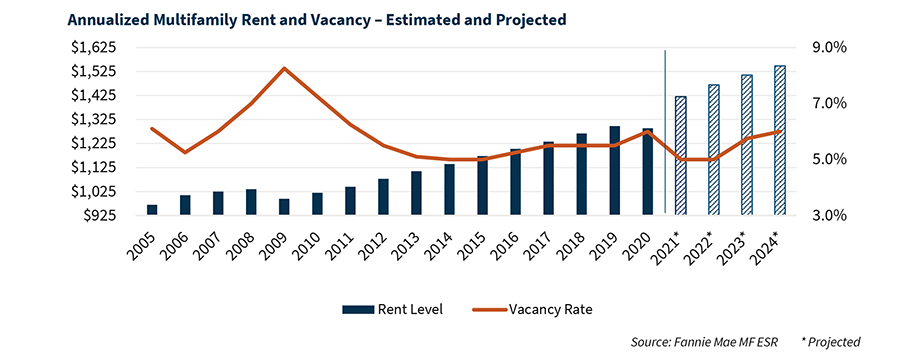 Rental rate increases and lower vacancy rates are extremely attractive to multifamily landlords and developers. Rent levels are forecasted to exceed inflation rates over the next few years, making multifamily investments a great inflation hedge. While vacancy rates may increase, the increasing rents can compensate and produce healthy NOI growth.
Fannie Mae projects that there will be a supply/demand imbalance in 2022, based on the number of multifamily units expected to come online compared to the anticipated increase in job growth. Fannie Mae is optimistic for multifamily housing: "We maintain a positive outlook for the multifamily sector in 2022. We expect the multifamily sector will continue to benefit from solid demand drivers, leading to improved fundamentals as reflected in a more normalized return to rent growth, stabilizing vacancy
rates, and rising property values. We also expect that the multifamily sector will outperform other commercial real estate property types, most notably retail and hospitality…"
Sources: Fannie Mae Multifamily Economics and Strategic Research, January 19, 2022, MarketWatch, March 21, 2022, PopulationPyramid.net