Riskalyze Provides Tools to Align Client Goals and Risk Tolerance with Portfolio Design
February 11, 2020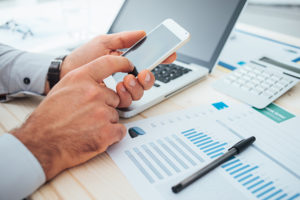 How much investment risk should clients take on?  Riskalyze uses leading scientific theory to objectively pinpoint an investor's "Risk Number." Using the investor's Risk Number and that of their current portfolio, Riskalyze can empower the advisor to make investment decisions that demonstrate alignment to clients and prospects.
Advisors need to be able to explain and demonstrate how much risk their clients need to take to reach their financial goals. Rather than guessing, the advisor can use Riskalyze to calculate the probability of success and build a map to achieve it.
Due Diligence and Alignment
The Riskalyze tools not only help advisors to act in the best interest of their clients, they document and showcase alignment between portfolio construction, risk tolerance and risk capacity. Using the Risk Number, the advisor can correct a misaligned portfolio. Powerful risk analytics can also be applied to a prospect's outside holdings and help generate new client relationships.
Risk assessments that use real dollar amounts that are relevant to the investor give the advisor and client a common language, eliminating confusing exercises full of subjective questions. Riskalyze questionnaires can be time-stamped and archived, giving the advisor confidence that he knows the client and can prove it quantitatively.
Using Data to Map Risk
Riskalyze analyzes the risk of over a quarter-million securities, products and strategies to see how accounts roll up into a portfolio-wide risk number. The 95% Probability Range illustrates the potential gains or losses a portfolio might experience over a six-month period. Although there's 5% that can never be quantified, investors make better decisions when they understand what is "normal" for their portfolio.  Advisors can use this data to keep their clients from making bad, short-term decisions that can kill long-term goals.
Riskalyze provides tools to create "Retirement Maps" that illustrate the bigger picture and serve as a great precursor to a comprehensive financial plan. When advisors can display investment risk with a wider lens, clients just "get it." Client portfolios can be run through a market timeline to illustrate a stress test for a variety of stock and bond market scenarios. These scenarios illustrate hypotheticals for the client. They can be a game changer to reinforce how the advisor can set a client's expectations. 
Why Blue Vault Partners with Riskalyze
At Blue Vault, we believe understanding the difference between data and information is a key to creating value. We are inundated with data, but only the data that improves our decision-making is worthy of being called information. To be informed and to make good decisions, we need to know how to analyze data to get to the information we really need. Riskalyze is a company that uniquely analyzes risk tolerance to better align investor preferences and portfolio decisions.
Go Back
2016 Broker Dealer Educational Summit 2016
Best Due Diligence meeting in the industry. No sales pitches, senior level decision makers, meaningful discussions and the Broker Dealer networking sessions were especially useful. Thanks to Blue Vault for raising the bar!