Solar Energy Overview
September 27, 2022 | Marketing Intent
Growth in Solar Energy
As part of the renewable energy sector, solar investments are essential to reducing carbon emissions, enhancing the reliability, security and resilience of the U.S. power grid and promoting U.S. energy independence.1
According to Solar Energy Industries Association (SEIA), the average annual growth of the U.S. solar market over the past ten years was 33%, and solar accounted for 46% of all new electricity generating capacity added in the U.S. in 2021, the third year in a row that solar made up the largest share of new capacity.2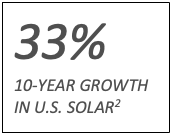 Solar photovoltaic (PV) is projected to be the "king of electricity" by the International Energy Agency (IEA), anticipated to experience 12% annual growth from 2019-2040.3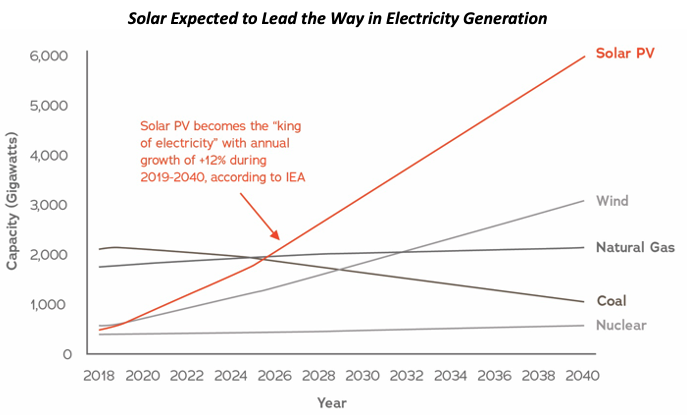 Source: International Energy Agency (IEA) World Energy Outlook 2020 (Table A.3)
How Solar Panels and Solar Farms Work
A PV cell is made of semiconductor materials that absorb the photons emitted by the sun and produce usable electricity. In a solar farm, many individual solar panels are grouped together to produce and transmit energy to the power grid and to homes and businesses.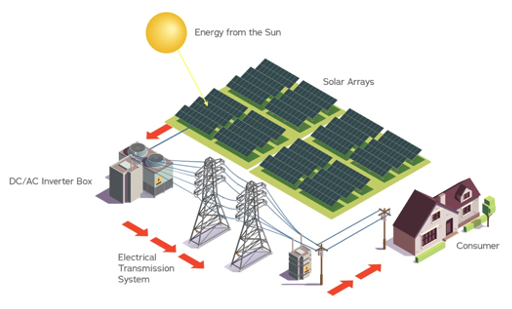 Source: Renew Wisconsin
Low-Cost Electricity Solution
According to Deloitte, solar PV systems are among the most cost-competitive energy resources on the market.4 In fact, the global weighted average of a utility-scale solar project costs is projected to fall by 85% from 2009 to 2025.5 Solar has already reached grid parity in many areas of the world where its low cost now beats both coal and nuclear.6 Solar's low costs have allowed it to become a self-sustaining industry that is not reliant on government subsidies.6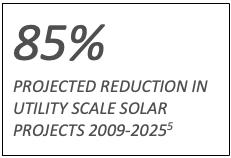 Solar Farm Costs Are Shrinking5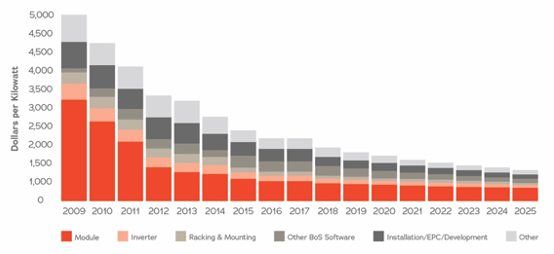 Solar Energy Creates Jobs
The solar energy industry employs approximately 3.4 million people worldwide, and 250,000 people in the U.S., more than the combined number of jobs in the U.S. coal and oil-gas extraction industries.6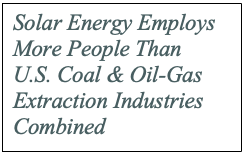 Potential Investment Portfolio Benefits
Alternative energy – including solar – has the potential to offer investors portfolio benefits, including:
• Diversification
• Low correlation to other asset classes
• Potential to generate stable income
• Potential to generate attractive total returns
1 https://www.energy.gov/eere/renewable-energy
2 https://www.seia.org/research-resources/solar-data-cheat-sheet
4 https://www2.deloitte.com/us/en/pages/energy-and-resources/articles/renewable-energy-outlook.html
5 Bloomberg.
Learn more about Marketing Intent at www.marketingintent.com.