Blackstone Private Credit Fund Provides Income Consistency
Blackstone Private Credit Fund Provides Income Consistency
September 27, 2022 | James Sprow | Blue Vault

Blackstone Private Credit Fund ("BCRED"), a non-traded business development company ("BDC") sponsored by private equity giant Blackstone (NYSE: BX). BCRED seeks to provide attractive income by focusing on senior secured loans with favorable terms. BCRED's a leading institutional credit platform with significant scale and extensive experience in private markets. BCRED offers expected monthly distributions and subscriptions, expected quarterly liquidity and simplified tax reporting.
BDCs are closed-end investment companies that elect to be regulated under the Investment Company Act of 1940. BDCs generally must invest at least 70% of their total assets in "qualifying assets," which are generally private U.S. companies or public companies with <$250 million in market capitalization.
In order to qualify as Regulated Investment Companies, BDCs are required to distribute at least 90% of their income annually and have pass-through tax structures with a single layer of taxation. Additionally, BDCs provide quarterly and annual reporting.
Investment Types
BCRED expects that the majority of its portfolio will be in privately originated and privately negotiated investments, predominantly U.S. direct lending through first lien senior secured and unitranche loans to U.S. private companies, as well as second lien, unsecured, subordinated or mezzanine loans, structured credit, broadly syndicated loans (for which we may serve as an anchor investor), club deals (generally investments made by a small group of investment firms) and other debt and equity securities.
An originated loan is a loan where BCRED lends directly to the borrower and holds the loan generally on its own or with only other Blackstone Credit affiliates. This is distinct from a syndicated loan, which is generally originated by a bank and then syndicated, or sold, in several pieces to other investors. Originated loans are generally held until maturity or until they are refinanced by the borrower. Syndicated loans often have liquid markets and can be traded by investors.
BCRED focuses on direct lending, providing debt capital to companies without the use of intermediaries. BCRED intends to lend primarily to U.S. private companies across a range of sectors. The BCRED team looks for companies it believes are in defensive sectors that are poised to withstand potential headwinds and are leaders in their space.

Performance
Since breaking escrow in January 2021, BCRED had raised a total of $23.9 billion in its public and private offerings as of September 22, 2022. As of July 31, 2022, the fund had total assets of $47.7 billion. Approximately 100% of the fund's loan portfolio, consisting of 587 positions, was at floating rates. 
BCRED's monthly total returns to its Class I shares are shown below: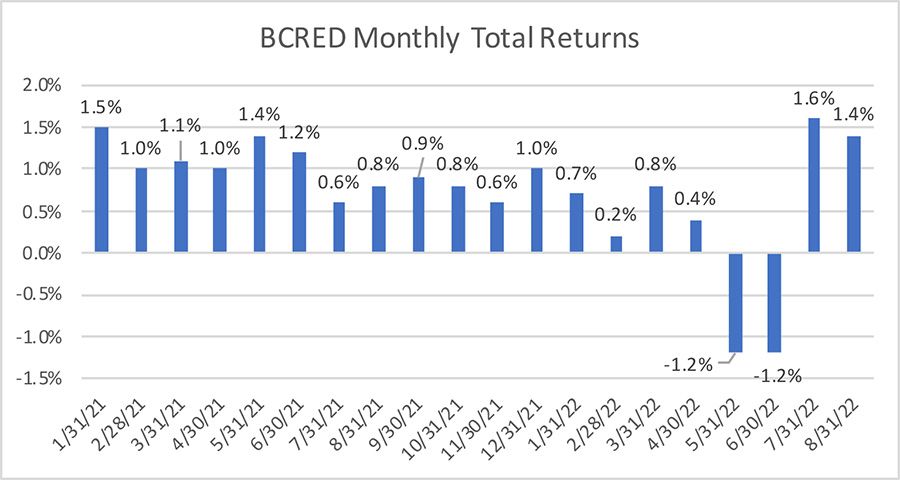 BCRED's total returns consist of distributions per share plus the changes in net asset values (NAVs) per share. BCRED's annualized distribution yield as of September 30, 2022, is 8.3%, based upon the current month's distribution annualized divided by the prior month's reported NAV. Monthly distributions to Class I shares are shown below: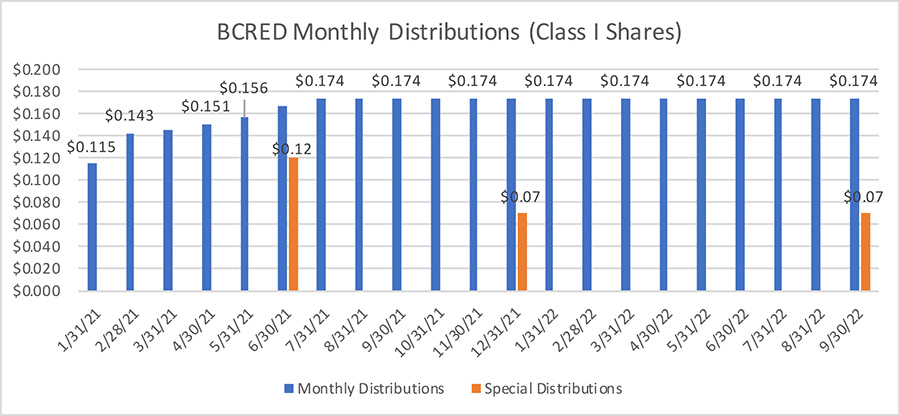 BCRED's monthly net asset values are the same for each share class. Changes in the NAVs per share are shown below: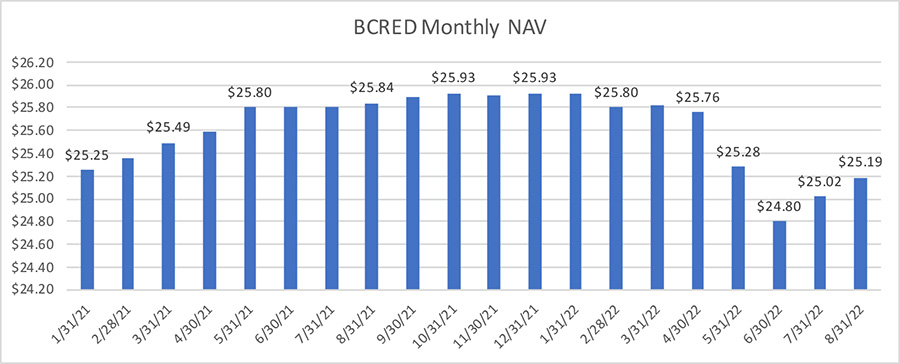 BCRED's shares are offered continuously at the monthly NAV.  No upfront sales load is charged on Class I shares, however if Class S shares or Class D shares are purchased through certain financial intermediaries, they may directly charge transaction or other fees in such amount as they may determine, provided that selling agents limit such charges to a 1.5% cap on NAV for Class D shares and 3.5% cap on NAV for Class S shares. Blue Vault provides quarterly reports for nontraded BDCs. 
Sources:  SEC, Blackstone Private Credit Fund website, Blue Vault