Inland Insights: Got Inflation? Real Estate May Act as a Hedge
Income-producing properties may provide an effective inflation mitigation strategy
August 2, 2021 | Inland Real Estate Investment Corporation
As the economy makes significant progress in its return to "normal," some have noted inflation increasing at an accelerated pace over 2020. In June 2021, the year-over-year inflation rate, as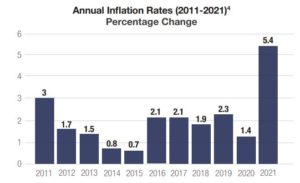 measured by the Consumer Price Index (CPI), surged 5.4 percent from a year prior, the largest annual increase since 2008. Core CPI, which excludes food and energy, rose 4.5 percent from June 2020, the fastest rate since November 1991.1 With economists predicting an inflationary environment possible over the next few years, it may be a good time to revisit how commercial real estate may prove to be an effective inflation mitigation strategy.
Go Back
2016 Broker Dealer Educational Summit 2016
Best Due Diligence meeting in the industry. No sales pitches, senior level decision makers, meaningful discussions and the Broker Dealer networking sessions were especially useful. Thanks to Blue Vault for raising the bar!