Leitbox Storage Fund – Properly Positioned, Perfectly Timed
October 26, 2020 | James Sprow | Blue Vault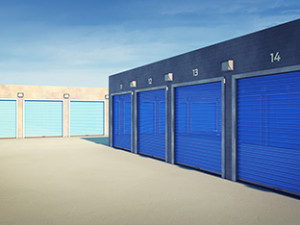 Blue Vault recently spoke with the team at Leitbox Portfolio Partners Self-Storage Fund II, LLC, including Bill Leitner, Manager, Laurie Levassar, Senior Vice President of National Accounts, and Curtis Shoch, National Sales Director. The fund is a Reg D offering that, like Fund I, will finance the development, acquisition, and conversion of self-storage facilities around the U.S.  Leitbox Portfolio Partners Self-Storage Fund II will be a $50 million offering and has been designed to provide income to investors sooner by acquiring existing self-storage properties that will provide income as well as growth by developing self-storage properties (often with mixed use integration) and converting retail boxes.
Self-Storage: First During the Best of Times, First During the Worst of Times
Bill kicked off the conversation by saying, "Overall, I don't think we could have timed it better.  Self- Storage has outperformed during COVID and we are excited about the condition of the self-storage industry.  Self-Storage proves itself again: performing first during the best of times, and first during the worst of times.  Dislocation and disruption have been with us, but the storage thesis has been proven again, that self-storage performs well in up and down cycles. I don't know of many asset classes that historically show this level of performance in up and down cycles."
"We had intended to launch Leitbox II at the Blue Vault Summit on March 12 in Atlanta. Due to the pandemic, we had some fortunate opportunities come our way. This allowed us to add two best-in-class teammates to our platform, in Curtis Shoch and Laurie Levassar, and align our culture with Orchard Securities, a world class MBD that manages many sponsors we hold in the high regard," he explained.
Leitner continued, "We knew the demand was there.  For two years, we heralded self-storage as an awakening giant migrating to a core asset class.  And with the recent entrance of Bill Gates and other sovereign wealth funds into the space, Leitbox, as a manufacturer of self-storage product, seems well positioned to meet the demand.  We also saw the sponsor opportunities in the channel as one dimensional. There were only one or two sponsors out there available to invest in self-storage. Our platform is properly positioned on a multi-faceted, niche strategy that aligns perfectly with our inner DNA.  We have been developing retail for 25 years.  We retain an early mover advantage on conversions and intimately know the design specs and demographic positioning of almost every national retailer – we have executed over 180 anchor leases spanning greater than 5,000,000 sq.ft.  We also have the unique ability to integrate mixed use into our storage prototype; that often yields a better location due to zoning constraints.  And lastly, with access to attractive debt capital, value-add acquisitions are the third leg to our strategic stool.  It's a storage trifecta," Bill concluded.
The Secret Sauce: Mixed-Use Component
According to Curtis Shoch, "The real secret sauce is the mixed-use component.  We can't go too far in talking about Leitbox II without mentioning that.  We believe that self-storage has gone through four evolutions and mixed use will be the catalyst for the next evolution.  We are developing a vertical prototype with mixed-use integration that dovetails perfectly into an urban environment.  Without the mixed-use component, wedging ourselves into these tight locations would be impossible – the cities simply won't zone it without the retail or office component!"
Bill continues, "Commercial real estate always evolves.  And it always evolves to what the customer wants.  And what the customer wants with self-storage is convenience and efficiency. Starbucks, Whole Foods, Publix grocery stores and mixed-use self-storage.  Mixed-use is what allows us to get that convenience and efficiency premium."
Providing a Clear Path to the Exit
Shoch further offered, "I think our niche strategy, versus a large portfolio investment strategy, is perfectly poised for investors in the channel. Self-storage properties are unique among commercial real estate types in that they have three stages of development where they can be monetized. Short term investment with a clear path to the exit seems in high demand – I can't count the number of times I have heard advisors stressing the need to return capital and harvest gains as quickly as possible rather than scale the firm and charge fees."  The self-storage properties that Leitbox develops can be sold at certificate of occupancy, at 50% occupancy during lease-up, or at stabilization with 85% to 90% occupancy.  The Leitbox developments can be and have been sold at a premium to cost at all these three stages.  One recent notable transaction was Leitbox's Nashville disposition.  Leitner explained, "It was a mixed use offering and we had not leased the first storage unit nor retail bay, and the property was sold within 24 months at a significant premium.  Even in the midst of an economic downturn and a severe bear market on Wall Street (on March 12, 2020, the day the sale was closed the Dow dropped 3,000 points), we were able to sell our mixed use offering at the certificate of occupancy stage at a price that represented a material premium to the project cost."  According to Shoch, the buyer recognized the value of the site location.  Leitner added, "In real estate, the best site always wins."
In talking about the changes to Leitbox II, Levassar added, "Leitbox is showing a long-term commitment to the channel.  They have been in the institutional capital-raising business for a long time, but now, Leitbox is here to stay in the IBD and RIA channel.  The waterfall is now providing a preferred return and splits of profits that reflect a more institutional flavoring. It's a self-storage offering with an institutionally-flavored waterfall. Our waterfall in the program has been designed to align shareholder interests with management.  I think these waterfall refinements and our compelling, niche strategy will allow us to tap into that underlying demand that we know is present.  Self-Storage has a strong value proposition for sure."
Manufacturing Real Estate
Shoch describes the latest offering as focused approximately 60% on the development of self-storage (often with mixed use) and 40% on acquisitions and conversions. "I think of ourselves as manufacturers of real estate.  We call it development, but Leitbox thinks of development as a repeating series of processes – like a car going down an assembly line.  It's fun to watch!"  The 60/40 structure is intended to produce income sooner for investors, making it more attractive according to their financial advisors. Shoch concluded, "I call our structure a "healthy dessert" – an income opportunity with a compelling growth play in the storage sector is a compelling story to be sharing these days."
Go Back
Blue Vault Nontraded REIT and Nontraded BDC Reviews
Blue Vault helps me to stay well informed on the financial status of both open and closed nontraded REITs and BDCs, so that I can help my clients better understand the product, before they make the decision to invest and after.