The Impact of Amazon on Grocery Sector and Phillips Edison Grocery Center NTRs
October 20, 2017 | James Sprow | Blue Vault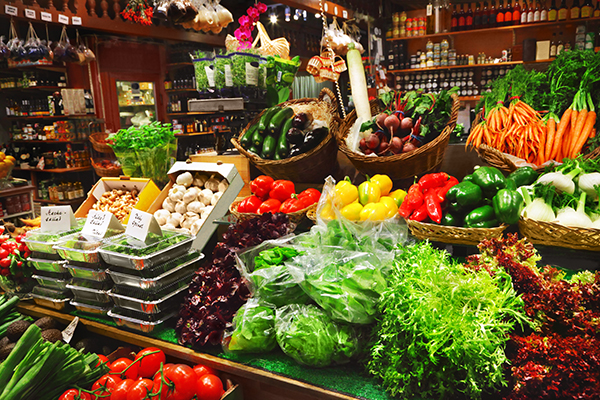 The June 16, 2017 announcement of the acquisition of Whole Foods by Amazon sent shock waves through the grocery industry. From June 1 through June 16, Kroger (KR), a grocery chain with 2,460 stores in the U.S., lost 26% in the value of its common stock. SuperValu Inc. (SVU), with 2,000 stores in the U.S., lost 20% in the value of its common stock over that same period. Even Wal-Mart (WMT), not nearly as dependent upon the grocery business, lost 6% in the value of its common stock over those 15 days. Was this attributable to the Amazon announcement? By comparison, the S&P 500 Index was up 0.1% for the same period, indicating that yes, indeed, Amazon's entry into the grocery business was perceived by investors as damaging to the prospects for several large, publicly traded grocery chains.
For nontraded REIT investors, the two NTRs that are most closely associated with the grocery business are Phillips Edison Grocery Center REITs I (PEGCR I) and II (PEGCR II). These companies have investment strategies that focus on grocery-anchored, neighborhood and community shopping centers "that have a mix of creditworthy national and regional retailers that sell necessity-based goods and services in strong demographic markets throughout the United States" according to their annual reports.
How dependent are the two NTRs advised by Phillips Edison NTR and sponsored by Phillips Edison Limited Partnership on the lease revenues from large grocery chains such as Kroger? The following table gives an overview of the NTR portfolios and their tenant concentrations.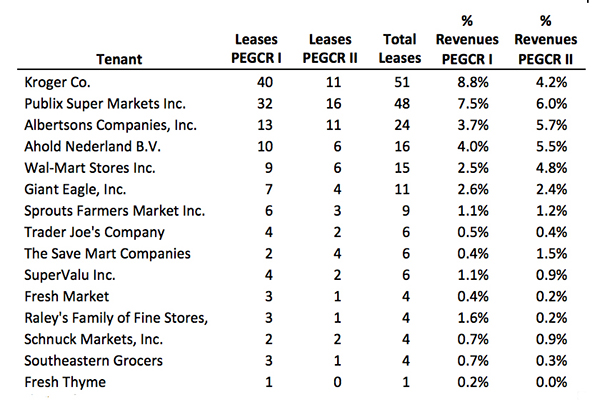 The Phillips Edison NTRs are well-diversified in their tenant mix, with no single tenant contributing more than 8.8% of the REIT's lease revenues. PEGCR I has 52.9% of its leased square feet in the grocery industry as of June 30, 2017, and that percentage was 52.7% for PEGCR II. The weighted average remaining lease terms for PEGCR I and PEGCR II were 5.4 and 5.8 years, respectively as of Q2 2017. As with other shopping centers, however, the economic success of the anchor stores has spill-over effects on other tenants.
The most recent analyst ratings for Kroger according to www.finance.yahoo.com were upgrades, but Kroger's stock is down 32% from June to October 17. Clearly, investor confidence in the long-term prospects for Kroger and other grocery chains has been shaken.
Necessity-based retailing, such as the grocery-anchored properties in the Phillips Edison NTR portfolios, has been one bright spot in the retail sector over the last several years. While other retailers have been reeling from the impacts of e-commerce in general and Amazon specifically, the grocery business has been spared some of the worst effects due to the nature of its products and their customers' preferences for in-store shopping. However, most grocery retailers are also responding to the e-commerce trend by adding on-line shopping and pick-up and delivery options to their platforms. Amazon's entry into the sector through its acquisition of Whole Foods will likely accelerate this trend.
On May 9, 2017, the board of directors of PEGC REIT I reaffirmed its estimated value per share of common stock of $10.20 based substantially on the estimated market value of its portfolio of real estate properties as of March 31, 2017, up from its $10.00 offering price. The board of directors of PEGC REIT II established an estimated NAV per share of $22.75 on May 9, 2017. The stock was originally offered at $25.00 per share.
On September 1, 2017, Phillips Edison Grocery Center REITs I and II entered into agreements that terminated all remaining contractual and economic relationships with American Realty Capital.

Learn more about Phillips Edison & Company on the Blue Vault Sponsor Focus page.

Phillips Edison Grocery Center REIT I Internalizes Management
Phillips Edison Grocery Center REIT I Shareholders Approve Internalization
Phillips Edison Expands Holdings With Illinois Retail Buy
Go Back
I have been in the financial services industry for 20 years and our firm provides an education platform that gets clients to "think differently" about their financial picture.  For many years we have communicated to clients the need to diversify their portfolios using alternative asset classes and more specifically, private non-traded investments.  Due diligence on these types of financial vehicles is essential and when I learned about Blue Vault in 2010, our firm immediately began using their material as a tool to build confidence in the minds of our advisors on which alternatives to recommend to clients.  I am impressed with the way Blue Vault continues to add value to their subscribers and I view their publication as a tremendous resource in today's complex world.