"Usually change is good, and that's a good thing…"
Blue Vault's 3rd Annual Summit
January 30, 2017 | Stacy Chitty | Blue Vault

Blue Vault's 3rd annual educational Summit will be held March 13-15. The purpose of the meeting is to give leading alternative investment product sponsors, including those offering nontraded REITs, nontraded BDCs, Interval Funds, and Private Placement offerings, a platform to demonstrate their investment strategy and expertise for the products they offer and answer questions posed by the industry's leading Broker Dealers.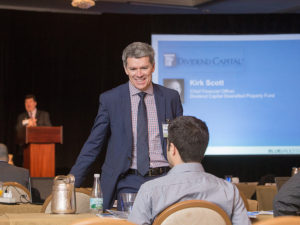 Each party has a responsibility in the communication process. Sponsors have a need, and that need is to educate the Broker Dealer community about the benefits of their current open offerings. Broker Dealers have a need as well, but their need is much different. They must be informed and kept educated on the strategy and performance of the sponsor's current open offerings, but also the sponsor's offerings already closed to investors. It's not an easy task to keep up with all the moving parts and changes happening in the alternative securities world these days. 
Therefore, Blue Vault brings together the leading players to converse in an attempt to create what Blue Vault's, Stacy Chitty, calls a "robust dialogue" says Chitty,
"Usually change is good, and that's a good thing, because change is what's happening in our industry today.  We just believe it's fundamentally important to create an environment where serious information can be exchanged, and where hard questions can be asked and discussed. That's what occurs at the Blue Vault Summit. The Broker Dealer attendees have a load of responsibility on their shoulders. We just try to help facilitate healthy conversation." 
But Blue Vault has help doing so. A Broker Dealer task force is formed for each Summit to help guide the agenda and the overall discussion. The 2017 Summit task force is made up of industry veterans Amanda Teeple of Triad Advisors, Mike Pagano of 1st Global Capital, and Thayer Gallison of Advisor Group. Chitty adds, "They have been a tremendous help. They really know the market place and the important issues which need to be addressed during the meeting. They and their Broker Dealers are the type of leaders and influencers the IBD channel needs right now.  The success of the Summit would not get very far without their input and involvement." Sixteen sponsors and personnel from approximately thirty Broker Dealers plan to attend and participate in the 2017 Summit, being held in Atlanta.                

Go Back
BlueVault saves a lot of time and effort in obtaining good numbers for analysis and provides good insights to compare against my own.